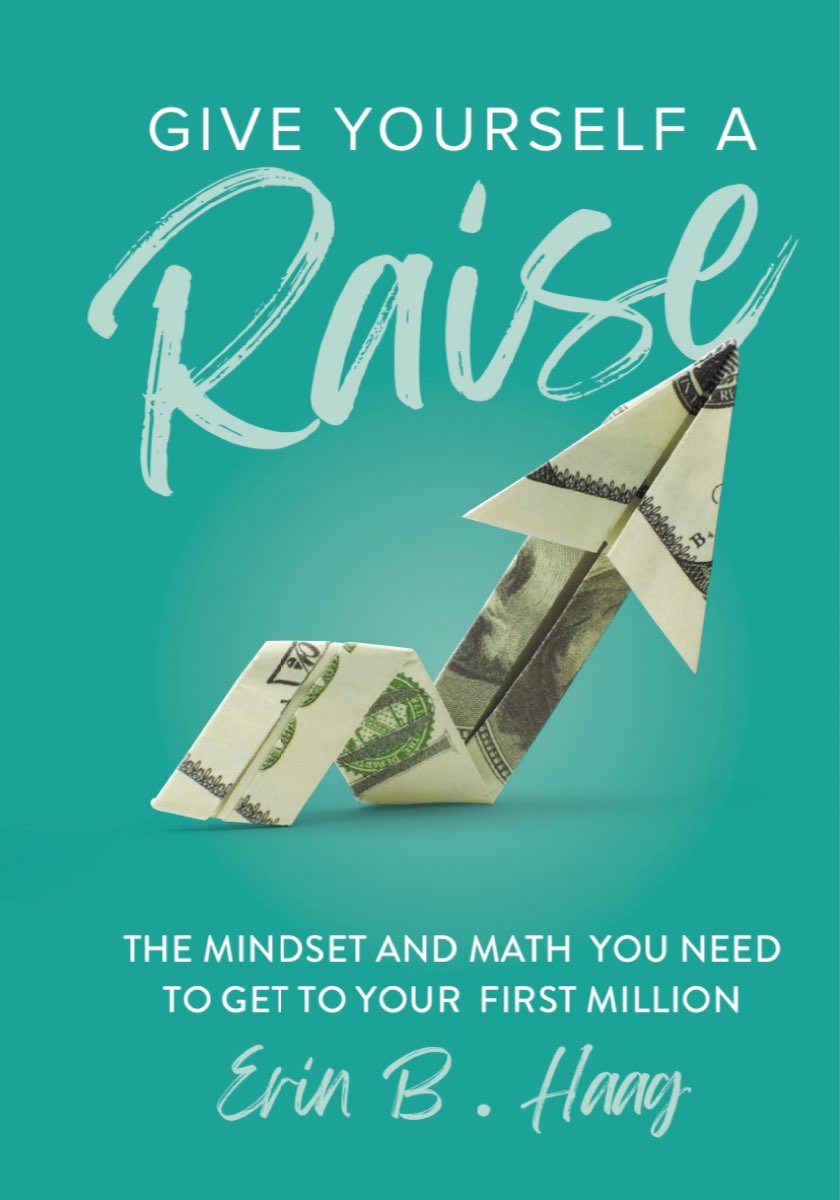 "How much should I charge?!"
It's the question that confuses and frustrates so many self-employed women. Millions of women do not know how to price their services correctly—and usually end up undercharging and earning less than they deserve. This has got to stop.
That's why I wrote my new book, Give Yourself a Raise: The Mindset and Math You Need to Get to Your First Million.
Years ago, I was over-working and under-charging so severely…that I ended up in the hospital. It was horrendous. And, it was the wake-up call that I needed to make major changes to my business–and pricing. Want to hear exactly what happened? Pre-order my new book, Give Yourself a Raise, to read the full story!
What You'll Find Inside This Book
The mindset issues that keep women trapped in a cycle of undercharging and underearning—and how to tell the negative voices in your head to STFU.

How to shift from math-phobic to math-ninja, and why you need to stop handing your financial power over to a man (boyfriend, husband, dad, or male accountant) and take charge of your own financial future.

Math, math, sexy math! How to calculate exactly what you MUST charge for your services—your ideal pricing, which is not based on intuition, guessing, feelings, or astrology, but based on actual MATH.

How to find confident answers to all the questions that often feel mysterious ("How many clients can I serve each month?" "Can I afford to offer this discount?" "Should I roll out this new service?") answered definitively and unequivocally by your friend, MATH.

How to roll out your new, higher pricing to your clients successfully—communicating clearly so that you retain all of your favorite clients.

How to become THE premium service provider in your niche, industry, or region—the woman who charges more than her competitors, who delivers greater value, who's always in-demand, and constantly has a waitlist of clients.

How to give yourself a hefty raise, not just financially but emotionally too. Raise your standards. Raise your expectations. Raise your quality of life.
Early Book Reactions
"As a solopreneur who was traumatized around math as a child, this book was 100% written for me. Erin's encouraging words first motivated me to try; her clear, step-by-step examples inspired me to keep on doing the math. Now I have a formula for my business that helps me serve my clients, maintain my self-care practices, and meet my financial goals. I wish I had this book 10 years ago–it would have saved me so much time and energy!"
"Give Yourself A Raise was the kick in the pants I needed for my business. I found myself on the verge of tears several times as I read the book, but not because of sadness, but because I felt affirmed in needing to sit down and … once and for all, focus on my business numbers. I've always told myself I was terrible at math, and let that negative self-talk creep into being quite dismissive of my ability to be a rockstar around my profit, my work schedule, and my pricing. My biggest a-ha from Erin's book was learning about creating a client capacity model for myself. Brilliant! I also appreciate the encouragement to replicate asking clients to pay more for my services, by paying my own team more – I can't wait to double my VA's next invoice and encourage her to charge more too!"
"I loved Give Yourself a Raise. It helped me really understand profit margin and the ethics of healthy pricing! We are worth more!!"
"Still not quite sure how Erin managed to make an entire book about math fun, but she did! Filled with humor, a bit of encouraging sweariness, and a whole lot of personality, "Give Yourself a Raise" will have a huge impact on your bottom line (even if your natural response to updating your Quickbooks is a big "wow, no thank you!"). Totally transformational and completely doable, this is one of the best books I've ever read on becoming a successful entrepreneur. Erin's foolproof process is straightforward, makes sense, and most importantly, is achievable…no matter your niche or where your balance sheets are right now."
"I read this book at the most perfect time. I would stare at my P&L and not understand why there wasn't any profit. I would check my personal bank account and not understand why my paychecks were so small. I've been running my business for a while, I always priced with value in mind. I had a high-touch, high-ticket offer that changed lives, yet I couldn't grasp why the money wasn't flowing in and out in a way that grew my business. 

 

I devoured this book in just a few days. Reading this book was the first time that profit was explained to me in a concrete way. I was able to do all of the math equations with ease and I landed on a new price for my 1-on-1 offers with the necessary pieces baked in to thrive as a business owner. And because I had math to back up my mindset around the value of my expertise and service, I was totally comfortable raising my rates to the price that they now stand and making everything a recurring payment. Having read this book, I've never felt more powerful and confident as a business owner and I cannot wait to see my profit margins rise."
A Note from the Author
I've helped more than 500 women to overhaul their pricing. After working with me, clients leap from 0% profit margin to a healthy 30% within a few months. 
Give Yourself A Raise includes all the exact same lessons, formulas, and equations that I provide to my private clients—laid out in a book. 
I'm bringing the "best of" my knowledge to you…so that you can give yourself a raise! Raise your prices and raise your standards, too. I want you to stop settling for crumbs and start expecting more out of life.
This is THE book for every self-employed woman who is tired of underearning. I can't wait for you to hold the book in your hands!
~Erin
Amazon Book Reviews
Social Praise